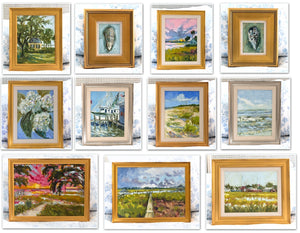 Wild Senses Collection available now!
This collection includes 45 new framed small works. Each was painted en Plein Air, meaning live outside in front of the scene you see. The collection was named Wild Senses, as all 5 senses informed each piece: the salty air, the sand on my toes, the sounds of the palms birds ocean and marsh, and all of the beautiful coastal scenes that surround us.
Shop Here
Filling the happiest spaces with fine art originals and custom commissions
The colors, brushstrokes, and dreamy scenes found in my work reflect my love for nature, and soaking every ounce of life out of life. My hope is that my work speaks to you in some way, makes you happy, and inspires you to look at nature in a different way.