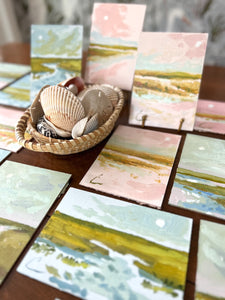 Black Friday Smalls available now!
Black Friday Smalls are here for all of your shelves, counters, and walls. You'll find many 5x7 oil on panel pieces, all specially priced for the holiday at $150 each. You'll also find more available smalls within this gallery. I hope you have the happiest holiday season.
Shop Here
Filling the happiest spaces with fine art originals and custom commissions
The colors, brushstrokes, and dreamy scenes found in my work reflect my love for nature, and soaking every ounce of life out of life. My hope is that my work speaks to you in some way, makes you happy, and inspires you to look at nature in a different way.