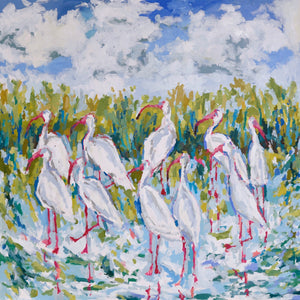 Jordan Connelly Studio
Ibis Party- 30x30
Regular price
$1,139.00
$0.00
This is a 30"x30" piece painted with acrylic on 7/8" depth canvas. The edges are white, so it can be hung with or without a frame. 
If you purchased the piece framed, please email me after your purchase to discuss framing options.  When emailing, please indicate the color/finish you're interested in and I'll send over all of the available options (ex: gold, silver, natural wood, etc.). 
All items ship within 5-7 business days within the US.  If ordering internationally, or if you have questions regarding shipping, please reference the 'Shipping and Returns' link at the bottom of the page.