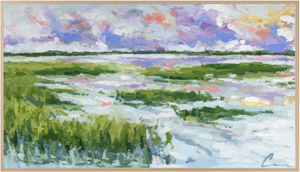 Jordan Connelly Studio
Pitt Street Bridge Sunset Frame TV Digital File
Regular price
$65.00
$0.00
This is for a digital Jpeg File scaled for the Samsung Frame TV, although it will work on most TV's. You will receive an email receipt immediately upon purchase, quickly followed by an email with the download link. There is only one download available per order, so please be sure to save your image to your phone's photo library right away. Please include your email address when checking out so the digital file may be emailed to you.
Brief instructions for uploading to the Frame TV: 
1) Save your downloaded image to your photos right away. 2) Download the free Samsung SmartThings app 3) Connect to your TV and select Art Mode to add your download 
Troubleshooting/detailed instructions: 
1) Save your downloaded image to your phone photos right away (I recommend starting a "digital tv" folder on your phone library so the photos are easy to access). 2) Download the Samsung SmartThings app. 3) Link your device to your Smartthings app- you can do this by going to home page on your smart things app, click the plus sign on the top right corner and add your device. Ensure your device is connected to your network (if not it will say offline). If it is saying offline, you may need to delete the current device in the app and re-add it. We had to do this when we got a new phone. 4) Now you're ready to add the art! Click art mode (not the words art mode, but the photos below the words art mode). It will take you to the correct page where you can access "my collection" at the top. It does sometimes automatically click over to a sponsored page before you have a chance to click "my collection", so you just simply hit the left arrow at the top left of the page to get back to it. Then top right click my collection. 5) From here you can add all of your frame tv photos (which should be saved to your iPhotos or photo library on your phone. This works best by adding 1-2 at a time. We personally find using the app easier than trying to navigate this on the TV. From the app you can select a mat (I prefer no mat, which you'll have to tell the app), and connect and preview the files on your tv). 
I can't wait to see photos of your spaces!!
Each image is protected by copyright and is meant for the sole purpose of the TV display for the sole use of the collector that purchased the image. Please do not use the image for any other purpose or share the image itself. Purchasing the digital file equates to you agreeing to these conditions. Please definitely still feel free to share photos of your room with the tv image installation.
---
More from this collection