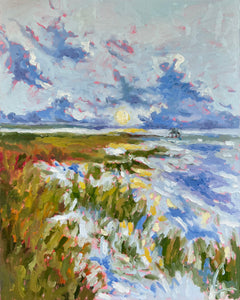 Jordan Connelly Studio
Carolina Moonbeam 1- 24x30
Regular price
$1,350.00
$0.00
This piece is oil on canvas inspired by the moonlit Carolina sky. It is part of the Wild and Free series. The Wild and Free series was born out of a desire to chase happiness, to take a leap of faith and fuel my passion, to take my love for nature and the water and splash that all over the canvas so wild and free that the viewer feels the same soul-filled passion. I hope this piece brings your heart to that place. 
If you desire framing, please notify me within 1 hour of placing your order. Framing may be added a la carte for ~$250.
This painting will be shipped within 2-3 business days if purchased prior to the 5th. Local pickup, please email me at jordanconnellystudio@gmail.com. If purchased after 8/5, it will ship within 2-3 weeks. If ordering framed, it will be shipped within 2-3 weeks.