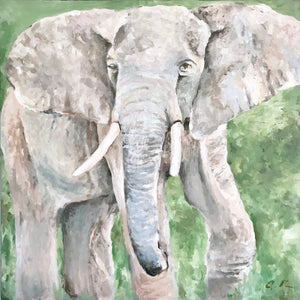 Jordan Connelly Studio
Elephant for Health - 30x30
Regular price
$995.00
$0.00
'Elephant for Health' is painted on birch panel with a 5/8" depth painted black so it can be displayed with or without a frame.
Framing is available in wide flat wood with a gold leaf with or without a thin linen mat, white, or silver finish, or in a thin floater frame with a gold, white, silver, or natural maple finish. The wide frame adds ~3.5" to each side, and the float adds ~1.5" to each side.
 10% of the purchase of this piece will be donated to One World Health. 
All items ship within 5-7 business days within the US. If ordering internationally, or if you have questions regarding shipping, please reference the 'Shipping and Returns' link at the bottom of the page.